Profile: Dario Franchitti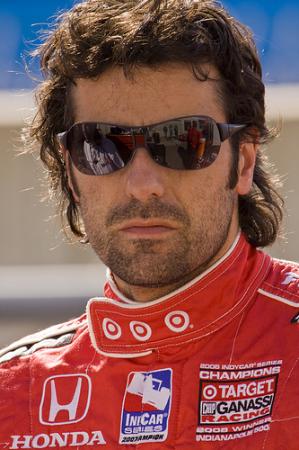 By Andrew Cutler
October 15 2008
No, there is nothing wrong with the TV broadcast feed or your ears: that really is a Scottish brogue that you hear comming from the driver with the distinctly Italian name. But it isn't just Dario Franchitti's accent that makes people sit up and take notice: his driving skills are pretty remarkable too!
After working his way through the UK karting scene in the late '80s, Dario stepped up to the Formula Vauxhaull Junior series in 1991, claiming four wins and the championship. Next came two years in the British Formula Vauxhaull Lotus series, where he claimed the championship in '93 with six victories.
After stints in British Formula 3 and FIA International Touring Cars - where he won two races - Dario made the jump to the CART Series in 1997, driving for Hogan Racing. 1998 found him being recruited by Team Green, & he rewarded them with three wins. Three more wins came Dario's way in 1999, & he tied Juan Pablo Montoya for first in championship points, but the title went to the Columbian, who had seven victories that year.
2000 would be a rough year for Franchitti, who suffered pelvis and brain contusions during a pre-season testing accident. He would muddle through the season, and returned to victory lane in 2001 with a win at Cleveland. 2002 would see Dario win three more times: it would also see him make his first appearance in an IRL event, at Indy.
After Michael Andretti bought into Team Green in 2003, the squad switched from CART over to the rival IRL to participate in the IndyCar Series. It would be another bad year for Dario, who missed much of the season while on the mend from a back injury suffered in a motorcycle accident. 2004 and 2005 would find him back in the cockpit & back on form; winning four races & constantly in the championship hunt.
After a somwhat lackluster - by his standards - 2006, Franchitti would have a very memorable 2007, capturing the IndyCar Series championship with four wins, one of them at Indy. He would also walk away unscathed from two of the most dramatic-looking flips that have occurred in many years!
Feeling that it was time for a new challenge, Dario suprised alot of people by announcing that he would be trying his hand at racing in NASCAR for 2008. A rough season there, including yet another injury, was brought to a premature end by sponsorship issues.
Dario returned to the IndyCar Series in 2009, driving for Target Chip Ganassi Racing. He captured his second series title, winning five races and posting a further eight top-five finishes. He successfully defended his title in 2010, winning three races, including his second Indy 500.
Dario will remain at Ganassi Racing for 2011.
More IndyCar Racing headlines