Ryan Hunter-Reay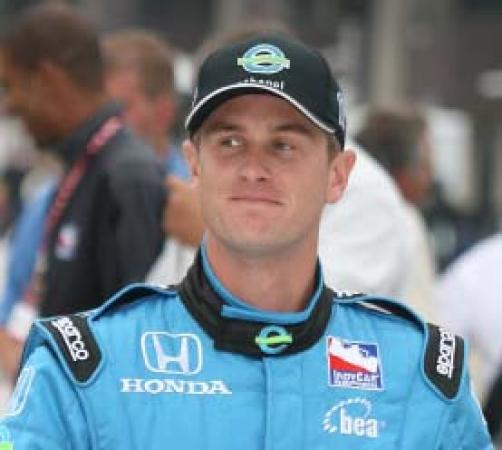 By Andrew Cutler
January 22 2008
Ryan Hunter-Reay is one of those racers who seems to quickly come to grips with any type of car that you put him in. After a few years of trying to make a go of a career in Champ Car, he has moved over to the IRL to try and make a name for himself.
The young Texan started out in karting, winning six national championships, before moving up to cars in the Skip Barber Dodge Series in 1998, where he won Rookie of the Year honors in the Southern Regional Series. The following year he would add the Eastern Regional Series championship and the Grand National Championship titles to his tally.
For 2000 & 2001 Ryan competed in the Pro division of the Skip Barber series, notching top rookie honors in '00 & two wins in '01. Fot 2002 he moved up to the Champ Car Toyota Atlantic Series, winning three times & setting series records for most poles, laps lead, fastest laps and track records in a single season.
In 2003 Ryan moved up to Champ Car. While he would win twice in the next three seasons, mainly he struggled to be competeive on underfunded teams. By 2006 he had had enough, and joined General Motors' NASCAR driver development program, he also ran a limited Rolex Grand Am Series schedule.
Early 2007 would see more of the same as 2006, as well as an appearance in the New Zealand A1GP event for Team USA. Then, in July, Ryan was signed by the IRL's Rahal-Letterman Racing squad as a mid-season replacement for Jeff Simmons, who's car-crashing ways prompted the squad to show him the door. Ryan responded in fine form, notching three top-ten finishes in the last six races of the season, good enough to win him Rookie of the Honors with less than 1/2 of a season under his belt!
RLR cut back theirt operation in 2008, becomming a one car effort with Ryan as their driver. He rewarded them with 10 top-ten finishes, including his first series win at Watkins Glen and a sixth place finish at Indianapolis. He finished eighth overall in the 2008 points chase.
Sponsorship issues forced RLR to suspend their IndyCar operations entirely for 2009. For a while it looked like Ryan might be spending the year without a ride, but he was signed to Vision Racing in late March, just in time to make the season opener at St. Petersburg. Ryan would remain with Vision until mid June, when he moved over to AJ Foyt Enterprises to replace the injured Vitor Meira for the balance of the season. Ryan would post two top-five finishes in 2009.
Ryan has secured a ride with Andretti Autosport for 2010 which initially was only for the first five races but, on the strength of his results, quickly grew into a full-season deal. He would win at Long Beach and post a further four top-five results, finishing seventh in the championship; the best of the Andretti drivers.
After some initial sponsorship funding issues, it was announced that Ryan will be back at Andretti Autosport for 2011.
More IndyCar Racing headlines