Profile: Tony Kanaan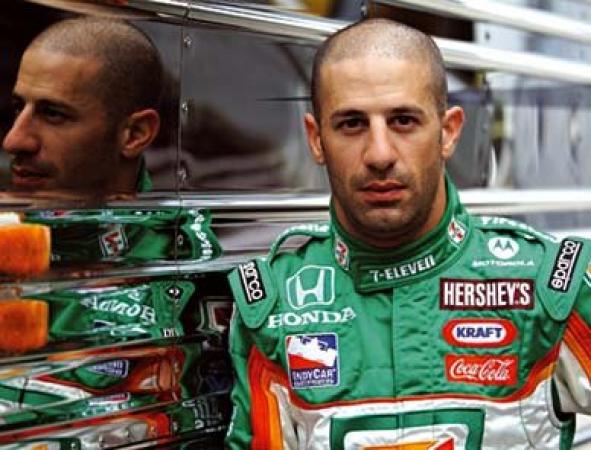 By Andrew Cutler
November 27 2007
It happens at nearly every IndyCar Series race: no matter where he starts on the grid, Tony Kanaan finds his way to the front of the pack in the opening laps. It is this inner "drive" that has made him one of the series' most successful and respected drivers and a perennial championship threat.
Tony developed this "drive" early in life out of necessity. At age thirteen, his father died of cancer, leaving him as the man of the family. Already an avid kart racer, Tony quit school and found employment at a go-kart manufacturing plant, earning the use of go-karts instead of a paycheck.
By age seventeen Tony had moved from his native Brazil to Italy to continue his progress through the lower racing series. Stints in the Formula Opel Euroseries, Italian Formula Alfa-Boxer and Italian Formula Three (where he was the '95 champion) would be followed by a move to the U.S. where he would become the Indy Lights series runner-up in '96 and champion in '97.
In 1998 Tony moved up to the CART (the predicessor of today's CCWS) series, where he earned Rookie of the Year honors. 1999 would see him capture what many thought would be just the first of many victories when he won at Michigan, but it would prove to be his only win in CART. Forced to sit out much of 2000 to heal up after an injury, Tony returned to a team (Mo Nunn racing) that was no longer a top competitor.
By 2003 Tony was ready for another change, and he switched from CART to the IndyCar Series, signing with Andretti-Green Racing. A victory at Phoenix and eight other top five finishes in his "rookie" year were just a portent of things to come. In 2004 Tony would capture the series championship, winning three races and becomming the first driver in series history to finish EVERY possible lap (3,305 that year) in a season, leading 889 - another series record.
While no further series championships have come Tony's way as of yet, he is always in the hunt. 2005 would see him finish second while winning two races. 2006 would be his "worst" year in IndyCar: he still won one race & finished sixth in the championship hunt. 2007 would find him in the thick of things again, winning five races and finishing third on the season.
For 2008 TK would win at Richmond & notch a further ten top-five finshes, which propelled him to yet another third place spot in the championship hunt. Nonetheless, there were some grumblings about the "team spirit" - or lack thereof - at AGR in '08, and, at one point, Tony was in serious negotiations with Ganassi Racing about jumping over to their squad. In the end, however, he decided to re-up with AGR for another five years.
Tony & AGR would struggle to be competetive in 2009, notching only 5 top-five and a further 5 top-ten finishes. The 2010 season woul;d see an upswing in performance, with TK winning at Iowa and placing at least in the top ten in all but four events.
Unfortunately, however, the main sponsor for TK's car at Andretti decided to pull thier sponsorship at the end of the season, leaving him without a firm ride. He has since landed a spot at deFerran Dragon Racing for the 2011 season.
More IndyCar Racing headlines