Profile: Justin Wilson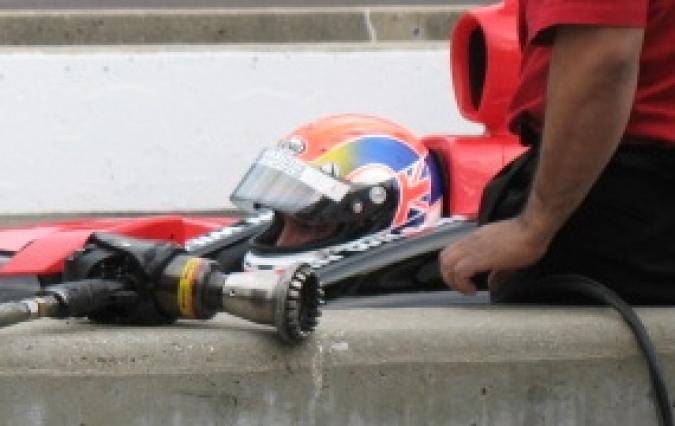 By Andrew Cutler
March 4 2008
It's not always easy being an open-wheel racing driver: especially when you are 6'3" tall! But Sheffield, England's Justin Wilson's career has been marked by a determination that is as big as his frame. Once he even sold shares of himself to investors to fund his ride!
After starting out in karting (of course), Justin moved up to the Formula Vauxhall Junior Series at age 16 and won his debut race, making him the youngest British driver to ever do so. By 1996 he was ready to move up to the Formula Vauxhall (Sr.) Series, placing second in the Championship standings, winning one event and placing in the top five in all of the others. For the following year he would notch three wins en route to a fourth place in the championship standings.
For 1998 Justin joined the debut season of the Formula Palmer Audi Series, winning nine times. For the next three years he would compete in the FIA International F3000 series: becomming the first British driver ever to claim the championship in 2001. 2002 would find him in the Telephonica World Series by Nissan, where he won twice and stood on the podium at the end of six other races. he also got his first taste of (what would soon become) CCWS that year when he landed a test drive for Newman/Haas Racing.
Comming to America would have to wait, however, because in 2003 F1 came calling (this was the year of Justin's PLC offering). Justin started the season with Minardi, but moved to Jaguar for the final five GPs, scoring his sole championship point at Indianapolis. Unfortunately, Jaguar's parent company, Ford, was looking for a pay driver for '04, and Justin's brief forray into F1 came to an end.
With no immediate prospects to get back into F1, Justin made the move to CCWS in '04, signing with the Conquest squad. After a solid rookie season he switched to the RuSPORT team in '05, where he would remain for the next three years, winning four times and placing second in the championship chase in both 2006 and 2007.
Justin was tapped to replace the F1-bound Sebastien Bourdais at Newman-Hass-Lanigan, the CCWS's most dominant squad, for 2008, signing just in time for the CCWS/IRL merger. He would finish eleventh in the 2008 champioship hunt, winning at Belle Isle and notching a further six top-ten finishes.
2009 would find Justin signing for Dale Coyne Racing, one of the smallest, least well-funded squads in the paddock. Nonetheless, he would prove to be the only non-Penske or Ganassi driver to win in '09, claiming top step on the podium at Watkins Glen. He would also notch two other top-five results.
Justin moved over to the Dreyer & Reinbold Racing squad for the 2010 season. The switch did not yield any victories, but two second place results and a further six top-ten finishes showed promise for the future, and D&R was quick to resign him for the 2011 campaign.
More IndyCar Racing headlines