2010 Indy Lights Champion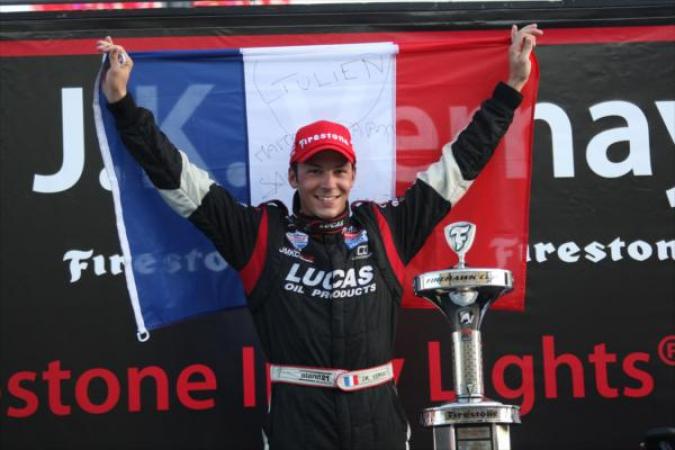 By Andrew Cutler
February 7 2008
JK Vernay, the 2010 Firestone Indy Lights Series champion, has set his sights on stepping up to the IndyCar Series for 2011. The 22 year-old Frenchman, a veteran of the Formula Campos and Formula Three Euroseries, won the FIL title in his rookie season, notching five victories along the way.
Unfortunately, winning the Firestone Indy Lights Series has been no guarantee that the IndyCar teams will comming knocking on your door. 2008 champ Raphael Matos was a welcome exception, but Jr Hildebrand ('09) has only managed to run a two race stint with D&R, and that was largely because he was subbing for the injured Mike Conway. Alex Lloyd ('07) spent two years as a (largely unused) test driver for Ganassi, with 'one-off' rides at Indy, before landing a full-time gig at Dale Coyne Racing this past season. Jay Howard ('06) saw his '08 ride at Roth Racing (a squad that didn't survive the season) yanked out from underneith him by a pay driver in May: He had a five race deal with Sarah Fisher Racing this past year. Wade Cunningham ('05) is STILL yet to land his first IndyCar ride, even in a 'one-off' situation.
Nonetheless, Vernay is determined to stay in the States and pursue an IndyCar seat. "What I want to do is IndyCar. That's why we chose Indy Lights. I have the title and the normal way is for the champion to go to IndyCar. It's the next step. Everybody knows it's not easy to get there, but I'm really confident that we will have a good deal with a good team.
"I like racing in America. The environment is very different than in Europe and it's been a pleasure to race here. I still have a lot to learn on ovals, but I was still competitive this year and feel like I can be in IndyCar. On road tracks, I know I can be competitive. I hope to stay in America for a long time."
More IndyCar Racing headlines