Profile: Helio Castroneves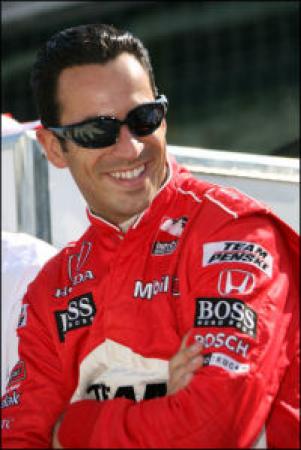 By Andrew Cutler
January 1 2008
Helio Castroneves grew up around racing. The son of the owner of a Brazilian stock car team, as a boy he was regularly "smuggled" into the track (where minors were not allowed) by his father on race day so that he could watch the action. He decided very early on that driving was the life for him.
Helio started down the path to his dream in the same place at nearly all young drivers do, in karts. By his third year, 1989, he had taken the Brazilian National Go-Kart Championship title. By 1991 he was competing in the World Cup championship series in Europe. For 1992 he moved up to the British Formula Vauxhal series, where he finished second in the season's standings.
Comming back home in '93, Helio competed in the South American Formula 3 series, claiming four wins on his way to finishing second in the championship chase. For the following year he split his time between the Brazilian F3 series - where he won four races - and the British F3 series. In '95 he would concentrate on British F3, winning at Donnigton Park & finishing third in the championship.
1996 saw Helio moving to the Indy Lights series, where he would remain for two seasons, claiming another four victories along the way. By 1998 he was called up to the CART series. Although he didn't win in his rookie year, Helio did lead more laps than any other first year driver. After notching his first series pole in '99, Castroneves moved to the Team Penske squad in 2000, where his fortunes dramatically improved. During the next two seasons in CART Helio claimed six series victories and as many poles.
In May of 2001 Team Penske stunned the American open-wheel community by comming to the Indianapolis 500 - run since '96 by the "rival" IRL - and participating. Helio and teammate Gil de Ferran would post a 1-2 finish, giving team owner Roger Penske his 11th Indy victory.
For 2002 Roger decided to move Team Penske from the ranks of CART over to the IRL full time: a move that others would follow in a couple of years. Helio would win again at Indy - the first back-to-back winner there since Al Unser Sr. in '70-'71 - and also a Phoenix and finish second in the championship.
Although a series championship has, as of yet, elluded Castroneves, the always tough Brazilian can never be counted out on race day. In the five years since his rookie IndyCar season, Helio has claimed a further nine victories, twenty-six top five finishes and twenty-three poles.
For 2008 Helio finished in the top-five in an incredible fifteen races, including victories at Infineon & Chicagoland & a series record eight second places. He wound up second in the championship chase, behind Scott Dixon. The year would end on a dark note, however, as the U.S. government is pursuing tax evasion charges against Castroneves.
After being aquitted of tax evasion in time to rejoin Team Penske at Long Beach, Helio would win at Indianapolis (his 3rd victory in the 500) and Texas, and post a further five top-five and three top-ten finishes in '09. He was unable to notch a record-tying fourth Indy win in 2010, but did find Victory Lane at Alabama, Kentucky and Motegi: These wins and a further six top-five results allowed Helio to finish fourth in the championship chase.
Helio will be back with Team Penske in 2011.
More IndyCar Racing headlines