A Safer Barrier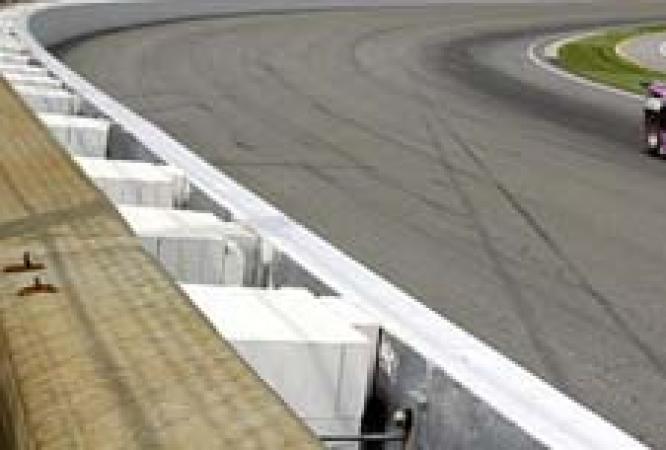 By Andrew Cutler
December 14 2007
It's an unavoidable fact of oval racing: there is a wall all around the outside of the track. It's there to protect the fans from the cars, but the price for that protection has often been paid in careers - and sometimes lives - ruined for drivers unfortunate enough to hit the wall at speed.
That is why, in an effort to reduce the risk to drivers, the IRL in 1998 joined with the University of Nebraska's Midwest Roadside Safety Facility in an program to design a more "forgiving" barrier that would reduce the risk of injury. What they developed, and installed for use in the turns at the Indianapolis Motor Speedway in 2002, would become known as the SAFER barrier.
SAFER is an acronym for Steel and Foam Energy Reducing, and the system works as follows: a series of rectangular steel tubes are welded togeather and placed a few feet away from the concrete outer wall. The space between both walls is partially filled with a series of bundled sheets of polystyrene to help absorbe the force of any impact to the tube wall. This barrier is laid out in 20' sections that are connected with internal steel splices. Any section that is damaged by contact can be repaired or replaced in a reasonable amount of time.
Here is a diagram to show you what the system looks like:
The SAFER barrier system has been an unqualified success, and is now used at most major oval tracks across the U.S.. For pre-exsisting tracks, the barrier has been retro-fitted into the turns (the most likely point of a head-on impact). For the recently contsructed Iowa Speedway, where the IRL first raced this past season, the whole length of the outer wall was purpose-designed to include the SAFER system.
The SAFER barrier system has won several awards from engineering, automotive and motorsports organizations, but certainly it's greatest achievement is the fact that, in the words of IMS director of engineering and construction Kevin Forbes; "The results are clear and undeniable - officials from both the Indy Racing League Indy Car Series and NASCAR Nextel Cup Series report that there have been no debilitating or career-ending injuries resulting from impacts into the SAFER system."
More IndyCar Racing headlines