Profile: Ed Carpenter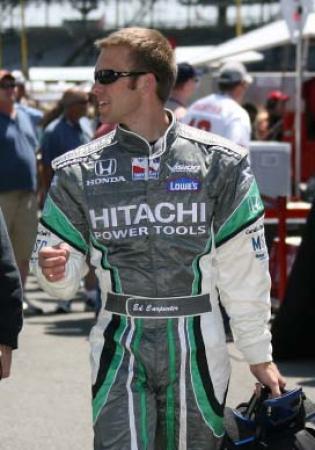 By Andrew Cutler
February 11 2008
Okay, lets gets this fact out right up front: Ed Carpenter is Tony George's stepson, and he used to drive for Vision Racing, the team that Tony owns. This obviously raises the question; has he really EARNED his spot in the IndyCar series? Read on and decide for yourself.
Ed started his climb through the lower formulas of racing in quarter midgets and three-quarter midgets, winning two national championship-level events along the way. In 1998 he moved up to the USAC (United States Auto Club) National Midget Car Series, winning in '99 at Louisville in only his fourth start.
By 2001 Ed had also tried his hand at USAC's other two series, Sliver Crown & Sprint Car, where he won at the season finale at Salem, IN. He also got his first drive in an IRL car that year, testing for Panther Racing. It wasn't quite time for him to make that move yet, however, & for 2002 he drove in the Infiniti Pro (now known as Indy Pro) Series, finishing third in the championship on the basis of six top-five finishes and completing 454 of a possible 455 laps. 2003 would find Ed still in the Pro Series, winning the innaugural Freedom 100 at Indy en route to another third in the championship chase.
Towards the end of the 2003 season Ed landed a seat with PDM Racing's IndyCar squad. While the results were not spectacular, they did draw the attention of driver/team owner Eddie Cheever, who signed Ed for the 2004 champaign. Cheever Racing was in decline, however, and Carpenter only managed one top-ten finish for the season.
By the time that the 2005 season came around, IMS owner/IRL founder Tony George has purchased the remains of the defunct Kelly Racing squad, renaming the team Vision Racing. 2005 would be a learning/growing year for the new team and, once again, Ed would only notch one top-ten finish. Things have become more settled since '05 and while Vision is not yet a squad that competes for wins, Ed has been able to post six top-ten finishes in each of the past two seasons, including a career-best fifth at the 2006 season finale at Chicago.
For 2008, Ed notched fifth place finshes at Homestead-Miami & Indianapolis, as well as a further five top-ten finishes. 2009 would be another mostly mid-pack season for Ed & Vision Racing, although he did finish a close second to Ryan Briscoe at Kentucky after a thrilling wheel-to-wheel race: He would also post five other top-ten results in '09.
With Vision Racing being shuttered in 2010 owing to loss of sponsorship help, Ed would only see limited seat time, running in four events in a second car for Panther Racing. Once again he ran well at Kentucky, claiming another second place finish.
For 2011 Ed will be driving for Sarah Fisher Racing, which currently has funding to run nine races and is looking for more.
More IndyCar Racing headlines