Profile: Jay Howard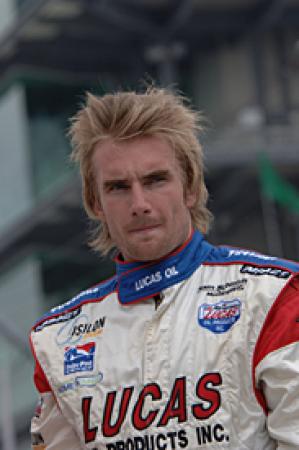 By Andrew Cutler
February 19 2008
After capturing the IndyPro Series title in 2006, Jay Howard undoubtedly hoped that an IndyCar Series squad would come calling for his services right away: Unfortunately, that didn't happen. The young Englishman would have to bide his time through the 2007 ICS season before realizing his dream.
The quest to fulfill that dream began at age seven when Jay began karting. While comming up through the "junior" karting ranks, he once ran off a string of 21 consecutive wins. In 1997 he took the ICA British Open Championship and the British Championship. he followed that up by claiming the 1999 Inter-Continential British Open Championship.
Switching to cars, Jay worked his way up to the British Formula Ford Zetec Series, taking the championship in 2003 with four wins and seven poles. In the same year, he won the United Kingdom Formula Renault Winter Series chmapionship.
In 2004 Jay crossed "the pond" to race in America. Joining the U.S. Formula Ford Zetec Series in mid-season, he won his first race over here, at Sebring. Still elligible to be considered a "rookie" in the series, in 2005 Jay took Rookie of the Year honors along with the overall championship when he dominated the season with nine wins - including six consecutive.
With such an impressive effort, it was little wonder that Jay drew the attention of IndyPro Series team owner Sam Schmidt, who signed him for the 2006 campaign. He responded in fine fashion, taking two poles, two wins and five other podiums to capture the series championship by a mere four points; the closest margin ever.
Unable to find a ride in ICS for 2007, Jay settled for a three-race IndyPro deal for SpeedWorks, notching a top-five finish at St. Petersburg. Then, towards the end of the year, driver/owner Marty Roth, who has fielded part-time operations in both IndyCar and IndyPro for the past few years, called him to offer a seat with his newly expanded ICS effort, which hoped to field two cars for the full 2008 season.
Jay would drive for the first four races before sponsorship issues forced him from the seat. He would return once, at Watkins Glen.
After spending the 2009 season back in Firestone Indy Lights, Jay signed a deal to drive four races with Sarah Fisher Racing for the 2010 IndyCar campaign: That deal soon expanded to include a fifth race. Driving a seven year old chassis for a part-time team, however, did not yield impressive race results. Howard failed to qualify for the 2010 Indy 500, and basically finished all but last in the other four events.
At the end of the year it was learned that the sponsor for Jay's car was moving away from Sarah Fisher Racing (joining driver Graham Rahal at Ganassi Racing). Furthermore, Howard remarked in a radio interview that he was not interested in returning to the team for 2011.
Howard claims to have a 'one-off' deal for the 2011 Indy 500, but has yet to provide any details about it.
More IndyCar Racing headlines