Profile: Ernesto Viso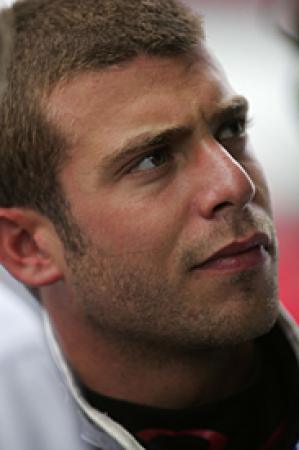 By Andrew Cutler
April 14 2008
After spending several years in Europe trying to climb the ladder into F1, Venezuelean driver Ernesto Jose Viso Lossada finds himself in the U.S. for 2008, racing in the IndyCar Series for the HVM squad. He is more commonly known as Ernesto, or "E.J.", Viso.
Ernesto started out in karts at age 7, and worked on his craft until 2001 when he moved up to the States to join the Skip Barber Dodge Eastern Championship. He dominated the year, winning 13 races and capturing 15 poles. He also drove in the Italian Formula Renault 2000 Winter Series.
For 2002 Ernesto moved to the U.K. to compete in the British Formula 3 (B) Winter Series, winning the championship, & the British Formula Renault sereis. In 2003 he raced in British Formula 3 (B), winning the championship, which landed him a seat in the top-level British Formula 3 series for 2004; he won twice.
For 2005 Viso moved to the GP2 series, posting three podium finishes. In 2006 he won two victories and a further three podiums. He also signed with the Spyker F1 team as a test driver. Unable to land another test drive in F1 for 2007, Ernesto raced in GP2 yet again, and also competed in the European GT Championship.
Enesto made the move to America for 2008, signing with the HVM IndyCar squad, formerly the Team Minardi CCWS outfit. He quickly established a "reputation" as an exciting but somewhat undiscipled rookie, butting heads with several veteran drivers. Nonetheless, Viso put in a solid year, posting five top-ten finishes, with a best of fourth at St. Petersburg.
2009 would be a difficult year for Viso, and he only posted one top-ten finish. He was released by HVM at season's end. He signed with KV Racing Technology for the 2010 IndyCar campaign. It would prove to be a chrash-filled year for Viso - and the other KVRT drivers - but he nonetheless managed to post a third place finish at Iowa and an eigth place result at Edmonton.
It is not clear at this point if Viso will remain with KVRT for the 2011 season.
More IndyCar Racing headlines