Profile: Sarah Fisher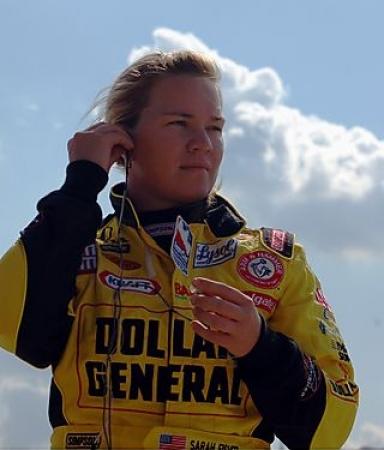 By Andrew Cutler
August 5 2008
Growing up as the daughter of a USAC sprint car driver, Sarah Fisher was exposed to racing almost since the day that she was born. By age five, her parents had given her a chance to try her hand at quarter midget car. Within a few years she was a regular fixture - and a constant winner - on the karting scene.
Sarting in 1991, Sarah won four consecutive World Karting Association Grand National Campionships. Stepping up to the USAC midget & sprint car ranks in 1995, she was named the Rookie of the Year in the Outlaw (dirt track) spint car division. Through the next few years Sarah kept plugging away at the USAC Outlaw circut, while adding forays into ARCA, NAMARS & USAC on paved ovals to her portfolio of racing experince.
1999 would prove to be a pivital year for Fisher. After notching five USAC victories, she caught the eye of IndyCar team owner Derrick Walker, who gave her a test in August of that year. Satisfied with her results, he signed Sarah - who had just turned nineteen at the time - and gave her a drive in the '99 season finale at Texas.
Sarah would drive for Walker through the next two seasons, posting two podium finishes, including a 2nd at Homstead-Miami, the best finish by a woman until earlier this year. In 2002, however, Walker decided to switch over to the CCWS circut, leaving Sarah without a ride. After landing a 2 race deal with Dryer & Reinbold Racing, Sarah set the record for the fastest 1 & 4 lap qualifying speeds by a woman at Indy at 229+. Her efforts were rewarded with a contract extension for the last 8 races of the season. She would qualify on the pole at Kentucky, and led laps both there & at Michigan.
Sarah would driver for D&R again in '03, but would only notch 1 top 10 finish, as opposed to 3 in '02. The team was struggling to find adequate sponsorship funding, and Sarah opted to move to Kelley racing for '04. They would prove to be in even worse shape than D&R, and Fisher would only find funding to drive at Indy.
With her IndyCar career stuck in the mud, Sarah found sponsorship backing to land a ride in NASCAR's Grand National Division, West Series. She would debut in the '04 finale, and then run the full '05 season, capturing Rookie of the Year honors on the strength of 4 top-ten finishes. Unfortunately, 2006 would bring more sponsorship difficulties, and her NASCAR foray came to an end.
Switching back to IndyCar, Sarah ran two late season races for D&R in '06, and then was signed to a full season deal for '07, when she picked up 2 more top-ten finishes.
After several years of struggles with underfunded & generally uncompetetive teams, Sarah decided that she might as well strike out on her own. She announced the formation of Sarah Fisher Racing for the 2008 season, and made plans to run a three race schedule; Indy, Kentucky & Chicagoland. Early sponsorship issues nearly brought the endevour to an abrupt end at Indy, but SFR has since landed a new primary sponsor & looks to be on a firm financial footing going forward through the rest of the season. Sarah would have a season's best finish of 15th at Kentucky.
Sarah would pull togeather enough sponsorship to run six races in 2009. Although she didn't post any top-ten finishes, it was widely regarded as a suscessful, learning/growing year for her team, with the promise of better results just around the corner. She would run seven races in 2010, but the hoped-for 'bump' in results never materialized.
Sarah came to the conclusion that she was trying to do too much by being an owner and a driver at the same time, so she announced her retirement from behind the wheel, to concentrate on management duties (although many fans hope that a yearly 'one off' at Indy may yet happen).
More IndyCar Racing headlines