Profile: Scott Dixon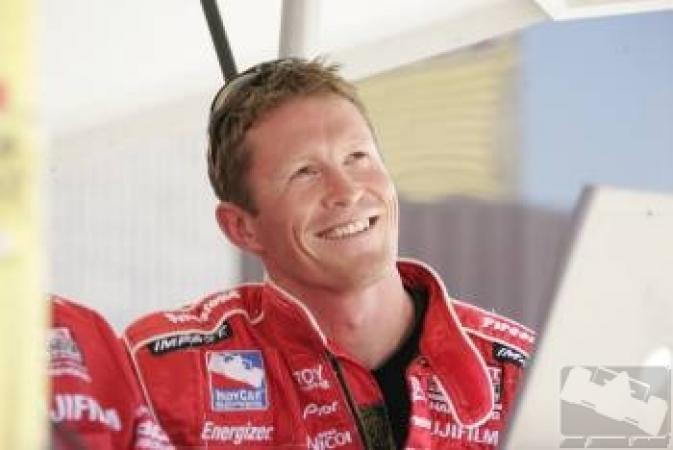 By Andrew Cutler
December 18 2007
At a saloon car race at Pukekohe in 1993, a Nissan Sentra flips over. The driver, only 13 and with a pillow strapped to his waist to help him see over the wheel, climbs out and tries to right the car himself. This is the first view that many in New Zealand get of their countryman, Scott Dixon.
The son of two dirt-track drivers, Scott had been racing karts for several years prior to being granted a special license to compete in the saloon car series at such a young age. Undeterred by the roll-over, he kept on racing. In 1994 he won the New Zealand Formula Vee championship. In '95 he dominated the Formula Ford Class 2 series, winning 13 of 14 races: the following year, he won the full New Zealand Formula Ford championship.
For 1997 Dixon moved to Australia and took on the Australian Formula Holden (Formula 3000) series, winning Rookie of the Year honors - and finishing third overall - that year and the series title in '98. Offers from teams in the Australian V8 series soon came his way, but Scott turned them down to take a chance on a test drive with the Johansson Motorsports Dayton Indy Lights (the Dayton series was associated with CART, not the IRL) team in the U.S.. The gamble paid off, and he was hired for the '99 season, finishing second in the Rookie chase and winning one race. 2000 would bring six more Indy Lights victories and the series championship.
Moving up to the Pac West CART team in 2001, Dixon became the youngest driver (up until then) to win a race in a major open-wheel series when he scored his only CART victory at Nazareth PA at 2 & 1/2 months shy of his 21st birthday: he also won Rookie of the Year honors that year. For 2002 he started out with Pac West but moved to Target Chip Ganassi Racing by mid-season.
When Ganassi switched from CART to the IRL in 2003, Dixon came with them. It didn't take long for him to settle in with his new series, and he won three races (including his first series start - at Homestead-Miami), five poles and the championship in his first year.
The next two years would not be as good for Dixon or the team, and he would only score one victory - at Watkins Glen in '05 - and would not be a factor in the championship chase. By 2006, however, things were beginning to look up. Scott would win twice that year - Watkins Glen and Nashville and would finish fourth in a very tight championship battle, only 15 points behind the winner.
2007 would be another good year, with Scott winning four races and having a neck-&-neck points battle with Dario Franchitti in the closing stages of the season. In the end, the championship came down to the last lap of the final race (Chicagoland) when Dixon ran out of fuel will leading. Franchitti, who was tucked under his rear wing in second, would slip by to claim the championship by 1/2 a lap and 13 points.
2008 would prove to be an even better year, as Scott won the series championship on the strength of six wins, including a dominating performance at Indianapolis, and a further eight top-five finishes. He also reset the mark for laps lead in a season, at 889.
Scott would not repeat as champion in 2009, settling for second in the standings, but he did notch a further five wins, as well as seven other top-five finishes. He would net a further three victories in 2010, as well as six top-fives, and finish third in the championship.
Scott will be back with Ganassi in 2011
More IndyCar Racing headlines