Profile: Graham Rahal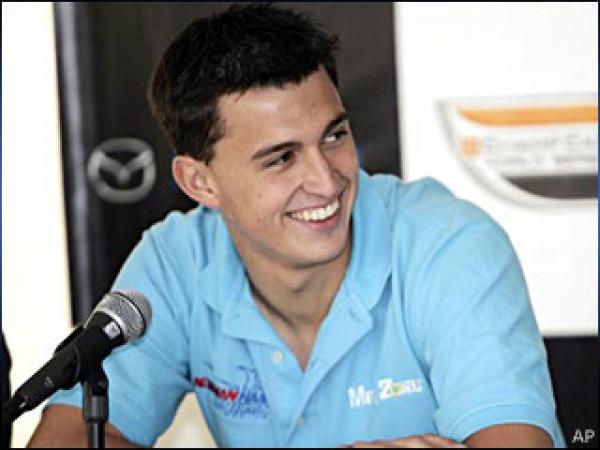 By Andrew Cutler
March 11 2008
It's never much of a suprise when the son of a former successful racer wants to follow in his father's footsteps; it's a bonus when all indications suggest that the apple didn't fall too far from the tree. Such is the case with Graham Rahal, son of three-time CART series champion Bobby Rahal.
After starting out in karts, Graham moved up to the Formula BMW Series in 2004, scoring four top-five finishes and a further seven top-ten. In 2005 he competed in the Star Mazda Series, notching one victory. he also became the youngest winner of a SCCA title, winning the Formula Atlantic class.
In 2006 Graham ran two A1GP races for Team Lebanon. He also made one appearance in the Indy Pro Series, staring on pole and finishing second at Indianapolis. He tried his hand at endurance racing, running the 24 hours of Daytona & the twevle hours of Serbring (he would drive both events again in 2007 & 2008). But Rahal's main focus that year was the Champ Car Atlantics Series, where he captured five victories and finished second in the championship chase.
After such an impressive year, it was a matter of course that a CCWS team would show interest in the young American: what suprised alot of people was that Newman-Haas-Lanigan, the series' most dominant squad, would be that team. Rahal, who had just turned eighteen, signed on for 2007 & showed great promise during his rookie campaign, notching five top-five finishes, with a best of second at Houston.
For 2008 Graham moved over to the IndyCar Series along with the rest of the Newman-Haas-Lanigan team. After being forced to sit out the season opener at Homestead, he won his first ever IndyCar outing, at St. Petersburg, becomming the youngest winner in series history. The rest of the season would prove to be difficult, and Graham would only post three further top-ten finishes.
Graham has made it known that his ultimate goal is to race in Formula One someday. Eary in 2008 he had the opportunity to put on a brief "exibition" from behind the wheel of a BMW-Sauber F1 car at Las Vegas.
2009 would be a consistant but unspectacular year for Rahal, as he posted 5 top-five and a further four top-ten results while driving again for NHL.
Graham was hoping to return with NHL for 2010, but a last-minute sponsorship loss forced the team to drop him. What followed was perhaps the ultimate 'journeyman's' season, with Rahal cobbling togeather deals to run twelve races (of seventeen on the schedule) with four different squads. Despite all of the musical seats, Graham would notch one top-five and five top-ten results.
All the while, he was working on something special. At year's end it was announced that Graham would land a full-time ride for 2011 - and beyond - with Ganassi Racing, as the top-tier squad expanded their operations from two to four cars.
More IndyCar Racing headlines