Porfile: Hideki Mutoh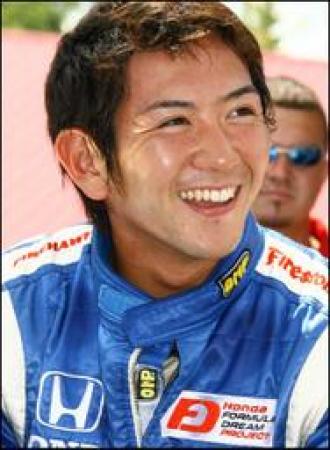 By Andrew Cutler
November 6 2007
Hideki Mutoh has proven to be a quick study at the art of oval racing. In just two years time - one in Indy Lights & one in IndyCar - he has come to grips with a style of racing that some who grow up in road racing only environments never get comforatble with.
After starting out in karts in 1996 at age twelve, Hideki quickly rose up the developemental/feeder system and, by age fourteen he was off to Europe to compete in the Formula Vauxhall Series. By 2000 he was ready to try out the Formula Ford ranks and he aquitted himself admirably, finishing 7th in that year's Formula Ford Festival. In 2001 he would finish 3rd in the Formula Ford European Championship.
Moving back home to Japan in 2002, Mutoh would race in the Asian Formula 2000 Series as well as the Formula Dream Series. In 2003 he would win the Formula Dream Championship. Then it was on to the Japanese Formula 3 series for two years, where he would place 9th & then 3rd in the champioship standings. For 2006, Hideki would race in the Formula Nippon Championship & the Super GT Championship, where he would win one race.
Then, in 2007, Mutoh moved to the States to try his hand at the Indy Pro (now called Firestone Indy Lights) Series. Despite never having raced on an oval before, he had an impressive year, notching 10 top-five finishes, including two wins - one on the oval at Kentucky. Hideki would finish second overall in the championship, earning Rookie of the Year honors. He also got his first taste of the IndyCar Series, running well & finishing in a credible 8th spot for the Panther Racing squad at the season finale at Chicagoland.
That drew the attention of the Andretti-Green Racing squad, who needed a replacement for Dario Franchitti for their IndyCar program. They signed Hideki, who rewarded them with a solid year, notching another seven top-ten finishes, including a second at the Iowa Speedway oval. At season's end, Hideki won the Rookie of the Year honors.
Despite posting 4 top-five finishes in 2009, Mutoh and Andretti-Green parted ways at season's end. After going a long way into the off-season with no announced deal, Mutoh ultimately signed with Newman-Haas-Lanigan for 2010. He struggled through the season, not posting a single top-ten result.
It is not clear at this time whether Hideki will be back with Newman-Haas, or even in IndyCar at all for the 2011 season.
More IndyCar Racing headlines