Profile: Vitor Meira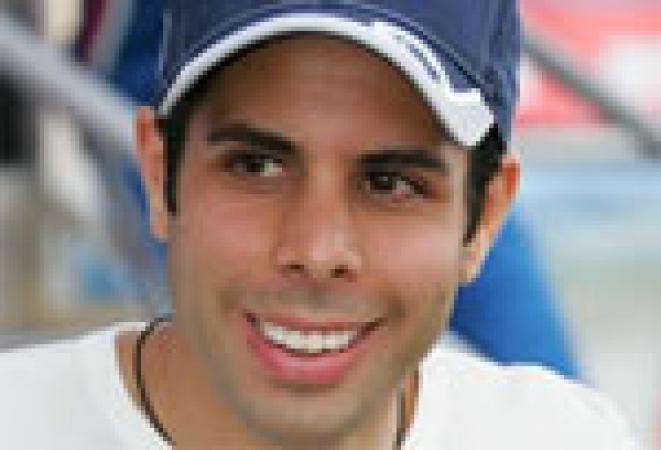 By Andrew Cutler
January 29 2008
Are you familiar with the saying; "always a bridesmaid, never a bride"? Thats how many see veteran IndyCar Series driver Vitor Meira. The quiet Brazilian has notched seven second place finishes in his series career to date, but has yet to find his way into the winner's circle.
After an impressive start in karting - winning the Brazilian championship, Vitor moved to the UK and competed in Formula Ford, winning the Winter Championship in 1995. For the following two years he remained in the series, finishing fourth both seasons. He also participated in the '97 Brazilian 1000 Miles sports car race, winning in his class.
In 1998 Vitor moved to the British Formula Renault championship, winning at Brands Hatch. 1999 found him back home in Brazil, competing in the South American F3 Series, where he won Rookie of the Year honors as well as two races. The following year he won the Series championship, notching eight victories.
Then it was back to Europe for the 2001 European F3000 Series, where Meira finished fifth in the championship chase. After starting 2002 in F3000, he got the call to come to the States & run the final four races of the IRL schedule for Team Menard. Vitor caught on quickly, and by the season finale at Texas he qualified on the pole and lead briefly en route to a third place finish.
2003 would see Vitor running a limited schedule in IRL, missing the first three races and then three more later on after suffering a wrist injury. Rahal-Letterman racing would sign him for 2004, and he respond with a pole position qualifying effort at Milwaukee and six top five finishes, including a pair of seconds.
In 2005 Vitor would be the "forgotten' RLR driver, having been paired with 2004 Indy champ Buddy Rice and media sensation rookie Danica Patrick. By season's end, however, he had outperformed both of his stablemates, notching seven top-fives, including two more seconds.
Despite his impressive 2005 campaign, RLR was obliged to release Meira before the start of the '06 season when sponsorship issues arose. Vitor was in the process of packing for the move back home to Brazil when he got a call from Panther Racing, who were eager to sign him up. Running on a shoestring budget and without a steady sponsor, Panther worked miracles to remain solvent in '06 & Vitor rewarded them with nine top-ten finishes, including three more second places.
For 2007 Panther had a better grip on their budgetary concerns, with a full-time sponsor comming on board for Vitor's car. Nonetheless, it was a - relatively - uncompetetive year for Vitor as he only managed to finish in the top five on three occasions, and never better than fourth. In 2008 Vitor would double his top-ten finish count, including another 2nd at Indy.
Vitor signed with A.J. Foyt Enterprises for 2009, but only competed in four races before suffering season-ending injuries at Indianapolis. He returned with Foyt in 2010, posting an impressive 3rd place finish in the season opener at Sao Paulo: He also notched five top-ten results through the balance of the year.
Vitor will be back at Foyt in 2011.
More IndyCar Racing headlines