Profile: Dan Wheldon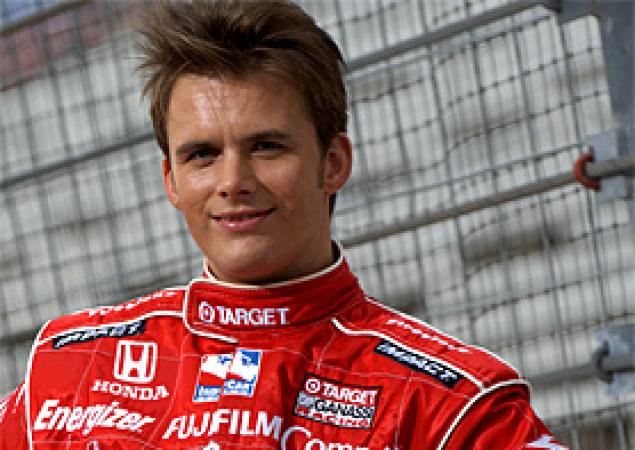 By Andrew Cutler
December 4 2007
On his official website, Dan Wheldon lists his personal motto as; " If you want something bad enough, you'll get it, as long as you put in the effort." From the age of four, when he got his first go-kart, Dan has applied that philosophy towards becoming a successful race car driver.
Just twenty-nine years old, the young man from Emberton, England has already had a career that most drivers can only dream of. Progressing through such developmental series as British Forumla Vauxhall & British Formula Ford, and winnig several races along the way, Dan still had struggles finding sponsorship backing and, in 1999, decided to try his luck in the States.
A dominating championship season in the U.S. F2000 series was followed by time in the Toyota Atlantic & Indy Lights series. By 2002, Dan had been called up to the IRL's Panther Racing squad as a test driver, & would start two races for them late in the season.
For 2003, Wheldon was tabbed by Andretti-Green to replace Michael Andretti, who was stepping out of the car to concentrate on ownership duties. While no victories came his way that year, an impressive string of top five & top ten finishes were enough to clinch the Rookie of the Year honors. Three wins would come his way in 2004, and Dan would finish second in the series championship standings.
2005 would be a banner year for Wheldon. He would claim a series record six victories, and a series-tying three in a row. He also became the first driver since the inception of the IRL (in 1996) to win the Indy 500 and the series championship in the same year.
Then he stunned nearly everyone.
Despite his record breaking year driving for the most dominant team in the series, Dan announced that he was leaving Andretti-Green and moving over to Ganassi Racing, a team that had struggled in recent seasons, for 2006. Knowing that Ganassi was changing from Toyota to Honda engines (Toyota was leaving the series to mount their NASCAR champaign) & ditiching the Panoz chassis in favor of the Dallara, Dan saw an opportunity too good to pass up.
2006 was a year of "almosts" for Dan and Ganassi Racing. Leading more laps than anyone else that year, Dan would post nine top-five finishes to tie Sam Hornish Jr. in championship points, but lose over the tie-breaker: Sam had three wins to his two. He would also dominate most of the 2006 Indy 500, only to have a late-race flat tire put him out of contention.
Towards the end of the year, the BMW-Sauber F1 team came calling with the offer of a spot on their roster; just not a full-time race seat. Dan declined the opportunity. "I do want to race in F1. When my contract expires with Chip (Ganassi), I'll take a serious look at Formula One".
For 2007, Dan would win twice more and finish fourth in the championship hunt; results that he would repeat in 2008. At the conclusion of the 2008 season, Dan announced that he would leave Ganassi & return to Panther Racing for the 2009 IndyCar season. He would struggle to help them find their form in '09, only posting three top-five results. The 2010 season would see a slight improvement in form - two seconds, two other top-fives and six top-tens - but the relationship between Dan and the team soured over alledged salary issues, and he was released at season's end.
It is not yet clear what Wheldon's plans for 2011 are at this point.
More IndyCar Racing headlines