Profile: Danica Patrick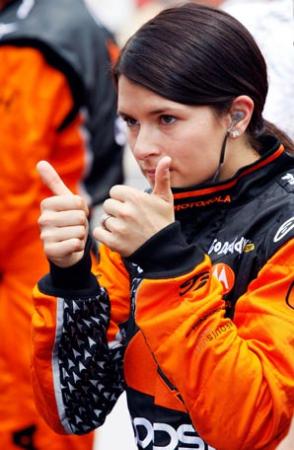 By Andrew Cutler
January 24 2011
I must admit that I have been reluctant to do this profile. I realize that most of you here at SN have little knowledge of IndyCar and, therefore, little reason to have an opinion of most drivers one way or another. In die-hard IndyCar fan circles, however, Danica Patrick is a HIGHLY polarizing figure.
So, in addition to giving you the customary biography/racing background information, I feel that I should also touch on how this "love her or loath her" state of affairs came about and what her detractors see when they gaze her way.
Danica began karting at age ten, in part because her younger sister was also trying the sport on for size. Quickly proving herself to be a "natural", she won several World Karting Association Regional, National & Grand National titles.
In 1998, at age sixteen, Danica moved to Britian and started competing in the Formula Vauxhaul series. By 2000, although she had not yet recorded a win, she moved up to the British Zetek Formula Ford series. In that same year she finished second in the Formula Ford Festival at Brands Hatch, the best finish ever for a woman or an American. For 2001 she remained in the Zetek series.
By 2002 Danica had caught the attention of former CART driver/then CART team owner Bobby Rahal, who brought her into the CART developmental ladder to drive for his Barber Dodge Pro Series team: She ran five races that year with a best finish of fourth. She also competed in a Toyota Pro/Celebrity race at the CART Long Beach GP that year, winning the Pro division. It was her first - and, until 2008 at Motegi, only - race victory since her karting days.
For 2003 Bobby Rahal moved Danica up to the Toyota Atlantic Series, the last rung on the ladder below CART. She remained there for two seasons, piling up an impressive tally of top five finshes (including two seconds) and even leading the points standings at one point in 2004. Still, she couldn't seem to find victory lane.
By 2005, when Rahal decided that Danica was ready for the "majors", CART was no more & Rahal-Letterman Racing was an IndyCar Series team. From day one she has been a publicity windfall & marketing bonanza for the series. Leading in the late going of the '05 Indy 500 & eventually finishing fourth, the best performance ever by a woman in the event, made her a public celebrity well beyond just the IndyCar fan base.
Danica won the 2005 Rookie of the Year honors for her on-track performance. She also won the Most Popular Driver award that year; and each year since. Still with Rahal-Letterman in 2006, she finished ninth in the points chase, with a season-best finish of fourth on two occasions, despite the fact that the team "stuck it out" with the Panoz chassis for most of the season when nearly everyone else had come to prefer the Dallara.
For 2007 Danica moved from Rahal-Letterman to Andretti-Green Racing, the championship winning team for three of the past four seasons. While victory still eluded her this past year, she did notch her first second-place finish (at Detroit), which tied her with Sarah Fisher (2nd at Homstead-Miami in 2001) for the best series finish by a woman.
In 2008 Danica would make history by winning at Twin-Ring Motegi, Japan. She would finish sixth in the champioship chase, with ten top-ten finishes to her credit. While she wouldn't win in 2009, she would have a more consistant year, notching 5 top-fives and a further 5 top-ten finishes, en route to a career-best fifth place finish in the championship hunt. 2010 would be another 'not quite' year for Danica, as she notched two second-place results, one of which came after a wheel-to-wheel duel with Ryan Briscoe at Texas. Again she showed better at ovals than road/street races. 2010 aslo saw Patrick run a limited schedule in the NASCAR Nationwide ranks, which provided more 'fuel' for those who question her commitment to her IndyCar career.
Danica will be back at Andretti Autosport in 2011 - and will also run a limited NASCAR Nationwide schedule again.
So...
By now you've already figured out the crux of the "Danica-haters" arguement; she doesn't win races (at least until '08), so why is she here? And from that, all other sort of ill views flow.
Comfortable in her role as a media figure, many see in Danica someone who is too in love with being a celebrity to concentrate on her job as a driver. As unfazed about getting in another driver's face out of the car as she is in mixing it up with them on the track, and often quite emotionally charged over her two-way radio after any incident or problem occurs, some see a whiney, spoiled princess who is quick to blame everyone else for her mistakes.
Another aspect of the whole "Danica issue" is the question of her "fan-friendliness". While she is hardly the only driver who isn't always willing to stop for a quick autograph (to be fair, she does do her share of pre-planned autograph sessions), a waive or other form of acknowledgement of her fans, for her detractors "not always" becomes "basically never". Thus, to them, Danica is an ungrateful and rude (insert your favorite derogitory term here) who should remember that she is a role model to countless young American girls.
So, exactly which Danica is the REAL Danica: the woman the Bobby Rahal hailed as being "the real deal" when he brought her into the series, or the the woman whom her detractors have made her out to be?
Follow along in 2011 and decide for yourself.