Weather A Factor In Pole Day Quals Results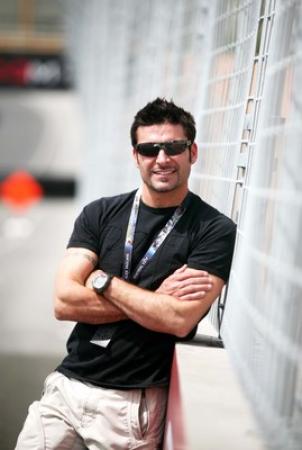 Alex Tagliani
By Andrew Cutler
May 21 2011
First, it was the wind that played havoc with the established pecking order up & down the IndyCar pit lane, then it was the rain. Pole Day dawned bright and clear, but turned overcast and occasionally quite blustery as the time came to get down to business.
By about one hour into the qualifying time window (11am-4pm), many drivers were being seriously buffeted by the winds, and thier time & speed results showed it. None of the Andretti Autosport drivers - save Indy-only 'one-off' John Andretti - would make the top 24, thus forcing them to come back on Sunday to try again. Team Penske also had their problems, with Helio Castroneves - normally a threat for the Pole - not advancing to the end-of-day 'shoot-out' between the top nine drivers: Ryan Briscoe, forced into his back-up car after an early morning wall-banger, wouldn't even make the top 24 at all.
Also on the outside looking in after Saturday were 3 of the 4 women drivers and both young guns from the new Ganassi satelite squad.
*post edit: I intitially reported that ALL women drivers missed the top 24, but Simona de Silvestro did make the cut.*
The KVRT squad had a particularly good day, as all four of thier cars - Kanaan, Sato, Viso & Indy 'one-off' Tomas Scheckter made the show.
At 3:30 pm a short but intense rain soaked the track, putting the 4:30-6pm top nine 'shoot-out' in peril: Had it not been able to go forward, the pre-4pm times for those drivers would have stood. Quick work from the IMS track crews, with a little help from a re-emergant sun, got the Brickyard whipped into shape in time for the nine to each take one last run to set the first three rows of the grid.
In the end, it was Alex Tagliani who took the honors, beating out Scott Dixon and Oriol Seriva to set Row One. The thirty-eight year old Canadain, who merged the squad that he co-owned last year with Sam Schmidt Motorsports, was among the fastest drivers thoughout the prior week's practice sessions: Still, he's not quite sure that he can belive what he's just accomplished. "I think I'll be pinching myself until I go to bed," he said afterwards.
Here are the complete qualifying results from Pole Day:
http://www.indycar.com:8080/var/assets/indycar-results-quals-poleday1.pdf
****************
Unfortunately, my video recorder decided to act up on me, so I didn't get much video of Pole Day. I did get a fair number of pics with my camera, and will post them on this site, hopefully by Monday.
View a Printer Friendly version of this Story.
Weather A Factor In Pole Day Quals Results
Discussion started by IndyCar Racing , 22/05/2011 00:20
IndyCar Racing
22/05/2011 00:20
What do you think? You can have your say by posting below.
If you do not already have an account
Click here to Register
.